A week or so after playing the same venue, Shift Static were back at the Head of Steam, this time supporting Foot Village. Now Foot Village are drums, drums, lots of noise, lots of rhythm and soaring screaming vocals! Pretty scary stuff actually and amazing in a small venue, where we were all surrounded by the sound of percussion and lots of drumming. Marie and I left the gig with our ears ringing!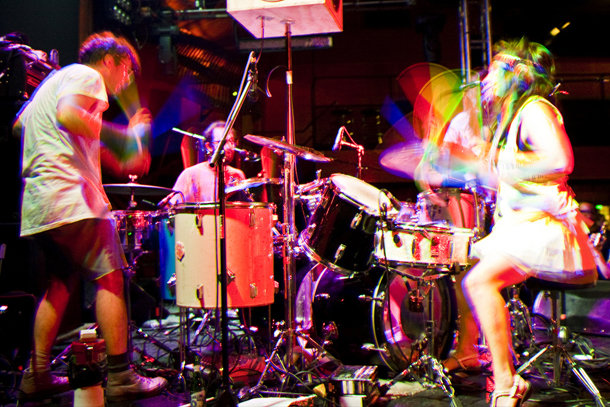 "Foot Village is a tribal noise rock band from Los Angeles, consisting of four drummers of which two also do the vocals. Band members Brian Miller and Grace Lee come from the band Gang Wizard, Josh Taylor was in Friends Forever. " (Wikipedia)
I have written elsewhere about Shift-Static, this post is more an update to remind me of seeing Foot Village. A couple years later I was with Laura at the Alexandra Palace in London to see Portishead and PJ Harvey and we ran into the members of Foot Village, who were one of the support acts. Laura was quite touched that they remembered her after a couple years, as I recall. She got a signed copy of their album and was quite chuffed.
"FOOT VILLAGE are a thunderous drum-n-shout assembly from Los Angeles – a thick forest of whirling limbs beating out rhythms for whispers and hollers to leap and dive through. Featuring members of Gang Wizard, Friends Forever and the infamous International Voice of Reason, Foot Village are pure hardcore spirit without the spark of electricity.
Erecting civilisation with drums and voices alone, Foot Village are the first nation built after the foreseeable apocalypse. Don't get this self-imposed restraint confused with some neo-luddite stance however, as Foot Village only want to inspire others with the wide potential of rock music. Anything becomes possible if you have an idea to run with." (Upset the Rhythm)